Specification
Geophony: Digital stereo audio loop, borosilicate glass measuring beaker, forest soil, and geophone (4mins 00secs)
Machine Learning: Algorithimcally produced digital stereo audio loop, 2x giclée print on hahnemühle photo rag, 420 x 594 mm (23mins 42secs)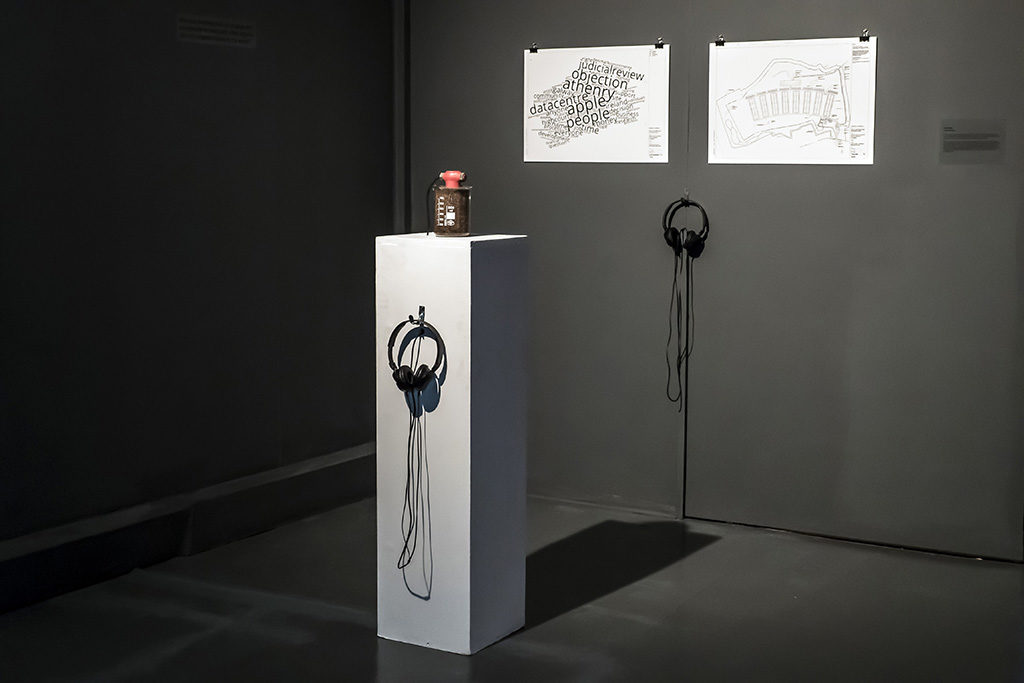 Project Antioch
A sonospheric investigation; a multimodal listening practice aimed at engaging with a sensory awareness to voice, agency, presence and vibrations from human, nonhuman, nonorganic and machinic perspectives.
Project Antioch is a continuation of research around the site of Derrydonnell Forest, near Athenry, Galway. My practice is interested in media infrastructures. Media infrastructures are the material backbone of audiovisual signals and data transmissions around the globe; the physical objects of the Internet and other digital-network platforms. These sites underpin the capacity for our digitally hyper-connected world but – as material assemblages – are also imbricated in complex and divisive manufacturing and operational processes that include the mining of rare minerals for components, the laying of a global mesh of fibre optic data cables, the purchasing and control of disputed lands within a globalised economy, and the significant carbon emission outputs of power hungry data centre factories that operate twenty-four-hours-a-day. It is estimated by Greenpeace and ClimateCare.org that the carbon footprint of Internet use per year is equivalent to the maligned and heavily regulated aviation industry. Based on energy consumption the Cloud would be today the fifth largest consumer of electricity, ahead of Germany, Canada, France, Brazil, and the United Kingdom.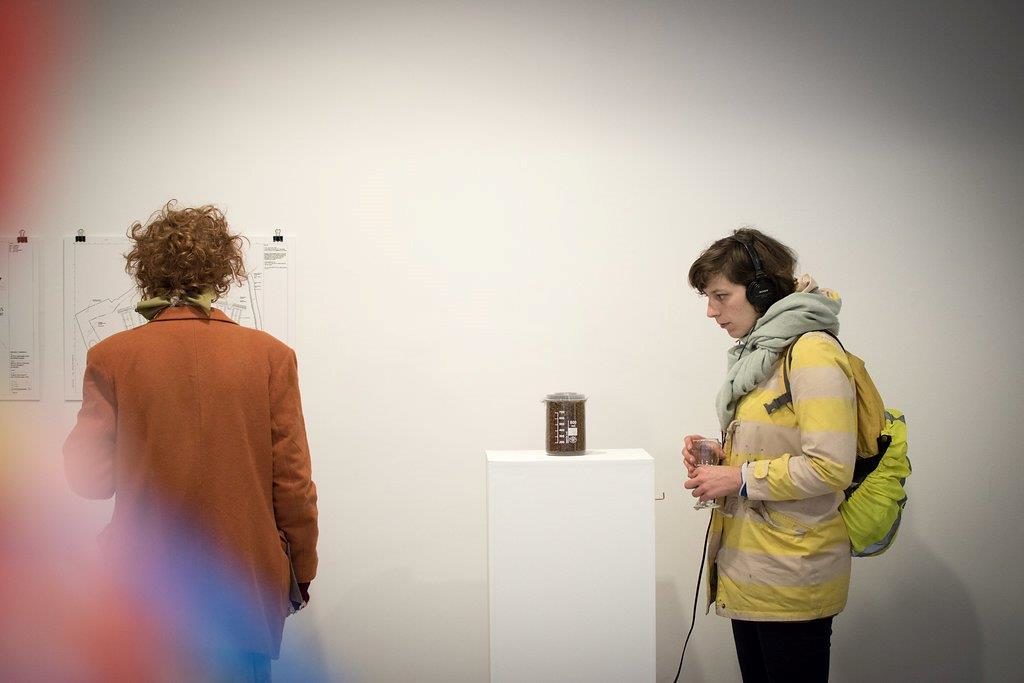 The material of media infrastructure exists on the planetary-scale, as meshwork assemblages, as ad hoc groupings of diverse elements, as living, throbbing confederations of elemental materials and energy transfers.
In 2015 Apple Distribution International applied for planning permission to build 8x 24,505m² single storey data centre buildings, and all associated facilities, external plant and a power substation. In short, once built, this €850 million project will be one of the largest data centre complexes in the world. The facility is marketed as providing services including iTunes, App Store, iCloud and Siri for all Apple users across Europe in a project that has a mere 25 year life cycle. The volume of compelling evidence from numerous objections from local and national residents was significant to the extent that permission to build was suspended whilst An Bord Pleanala reviewed the objections. Since this date, the High Court has held off from making a decision which will determine the forests future (due October 2017).
Counteracting the objectors, a large group of local residents and honorary digital residents have setup a Facebook Group page called Athenry for Apple, where heated discussion takes place, revealing as much about the data centre's suitability for construction as it does about the socio-economic pressures faced by communities across rural Ireland still reeling from the effects of a recession that began a decade ago.
Geophony
The audio work is a 4 minute looped piece including low frequency vibratory agency of the forest floor at 6am. This includes geological and soil based movement, subterranean critters and my presence as a recordist disrupting it all. A borosilicate glass measuring beaker contains forest soil samples which have later been analysed for their mineral compounds and acidity.
Machine Learning
An algorithmic investigation into the 'anti-protest' community of Derrydonnell Forest. Following the initial objections to the plans to build the data centre, a Facebook group called Athenry for Apple was setup in late 2015. Boasting over 350 active contributors, 2,000 followers and 3,000 comments the page has been a central platform for anyone concerned with the objections preventing the site being approved for development. At times, incendiary remarks have created rifts amongst what should be a united 'pro-Apple' voice. Writing scripts in Python to 'data-scrape' the group's Facebook source, I used machine learning algorithms including Natural Language Processing, Keyword Extraction and Sentiment Analysis, to practice a deep-listening of the machine-read methodology of social media data harvesting in relation to the predicament in Athenry. The audio is an algorithmic machine learning libretto of 610 bars; a bar for every day the group page existed between its setup and the initially planned date for the final judicial review, which was cancelled due to 'a lack of judges'. The audio comprises algorithmically determined keywords, vocalised by text-to-speech machine based voices and human voices alike; played back according to algorithmically determined principles of conditional probability. The human contributors come from Galway (site of Derrydonnell Forest), London (where I live), Denmark (where Apple have completed construction of a sister data centre complex this summer) and Finland (where Google controversially built a data centre in a former paper mill). Two prints comprising architectural title blocks map the site.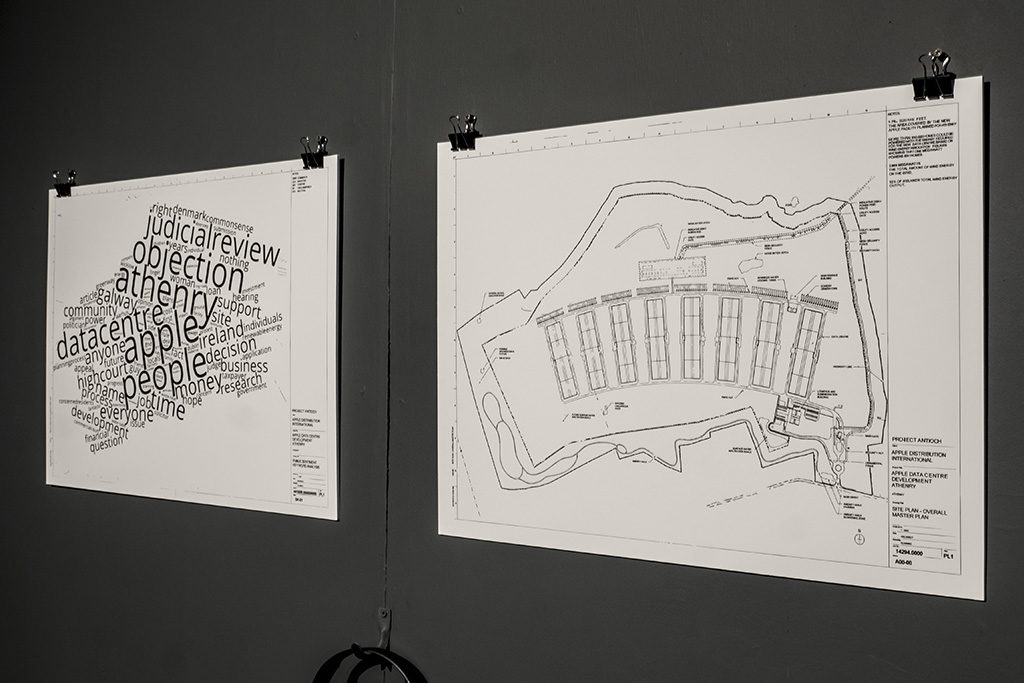 Performers
Caitlin (CereProc)
Cortana (Microsoft)
Google Assistant (Google)
Ina Niemelä (Finland)
Jon Kennedy (United Kingdom)
Ruth Gilligan (Ireland)
Sara Kracht (Denmark)
Siri (Apple)
Exhibitions
Future Proof, The LAB Gallery, Dublin, IE (2017)
Trajectories, Watermans, London, UK (2018)
Exhibition images courtesy of Sheena Barrett and Ros Kavanagh