General Locations
Cashla 220kV Substation, Spiddal Wave Energy Test Centre, Derrydonnell Forest, Raheen Woods Hotel Athenry.

Cashla Power Station
53°18'34.4″N 8°51'13.1″W
Having spent the previous day investigating wind turbines in the area, I decided that I needed to complete the journey from the wind farm to Derrydonnell Forest. Much had been made in the proposal from Apple on the proximity to Cashla Power Substation as a core rationale for selecting Derrydonnell Forest as simply the only feasible option for a data centre in Ireland and one of only two feasible options in Europe (Viborg Denmark being the other). Within Apple's proposals, they will draw power from the 220kV substation until they build their very own on site in Derrydonnell forest at which point Cashla will become a redundant backup substation.

6km North West of Derrydonnell Forest is Cashla Substation. Sandwiched between Coshla Quarry, an active asphalt and stone production quarry and the headquarters and industrial centre for C&F Group, an industrial design and manufacturing company providing industrial design solutions (including the wind turbine I had spotted at Lisheenkyle National School on Day 1). They also provide industrial design solutions including cooling systems for data centres worldwide and employ nearly 1,000 staff (950 more than the expected job opportunities at the Apple Data Centre).
On another remote and narrow road, I couldn't see a clear place to park so I decided to sneak into the C&F Staff Car Park. Picking up my gear, I wasn't quite sure what I would be able to get away with so spoke to a security guard. I asked if it would be ok to park my car here and take photos of the substation. I told him I was a photography student. He said it wasn't a problem at all and I wandered across the road to the substation entrance.
At the entrance I could see two engineers climbing the radio tower adjacent to the substation. They were in full high visibility clothing. I setup to record with my handheld recorder (DR40) and filmed them climb the structure. I could hear a hum from the substation, but nothing of particular note. I wandered around the perimeter, testing my nerve and getting closer and closer to the perimeter fence. Nobody came to ask me what I was doing. Nobody seemed at all bothered. Trucks full of rock passed behind me on the narrow road out of the quarry and the occasional noise of industrial work from the C&F worksite could be heard.

Radio Antennae
I probed deeper still, certain that there would be interesting tones to find but not carrying adequate tools (just the handheld recorder). I regretted being nervous when setting off as it would have been interesting to record using the geophone.
Listening attentively to the area, I could hear a strange oscillation emanating from the base of the radio antennae. The radio antennae would be responsible for the local vicinities 3G/4G provision and was fitting to be located next to the substation that powered it. As high voltage cable feathered into the distance in all directions, the mast stood strong as a symbol of wirelessness. But at the base, I heard the most peculiar series of oscillations, in phase, out of phase, fading in and out. I wanted to find out more. I wanted to record it better. I did my best.

Spiddal Wave Energy Test Site / Galway Bay
I had been reading how Apple had invested €1 million in the Sustainable Energy Authority of Ireland (SEAI) wave energy test site. I was interested in how even though Apple had publicly been making a lot of noise about their wind farm sustainable drive, they hadn't invested in any infrastructure projects for wind energy in Ireland but instead chose to invest in an experimental wave energy project. What was the motivation for this? I decided to visit the location just outside of Galway that was closest to where according to maps and data provided by SEAI, the test bed lay.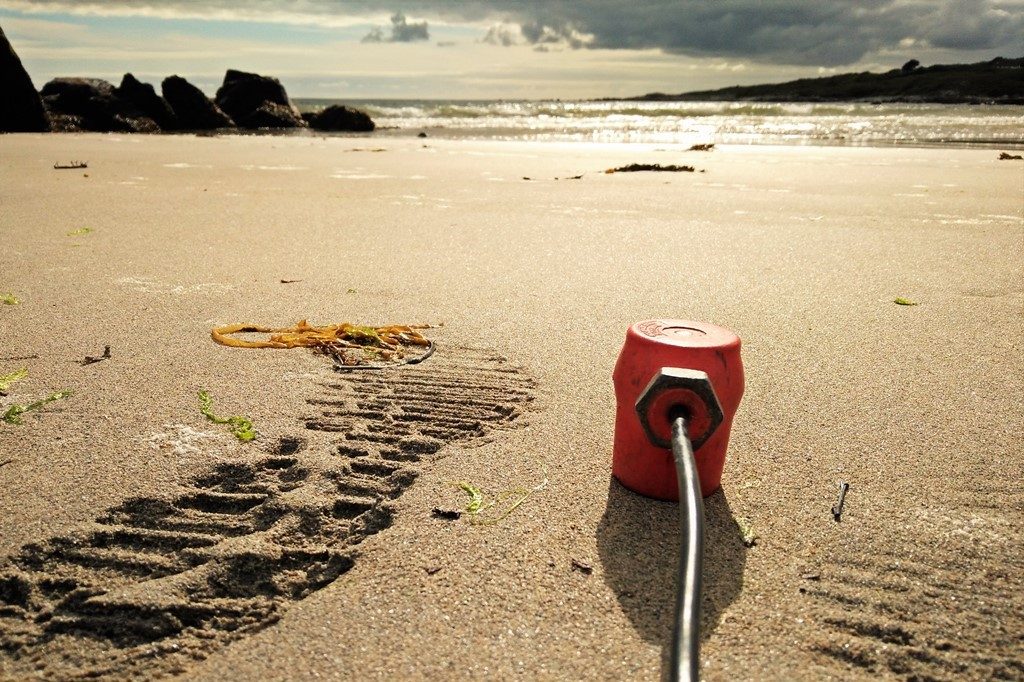 Having spent the last two days deep inside forests or on top of a mountain range or inside a car, it was refreshing to be by the ocean. The Atlantic disappearing on the horizon. I listened to the power of the waves across the rocks where I stood. I wondered what sounds were happening on the bed beneath, in the metal casings of the wave energy test bed and whether one day this technology might be the solution to Apple's Data Centre problems.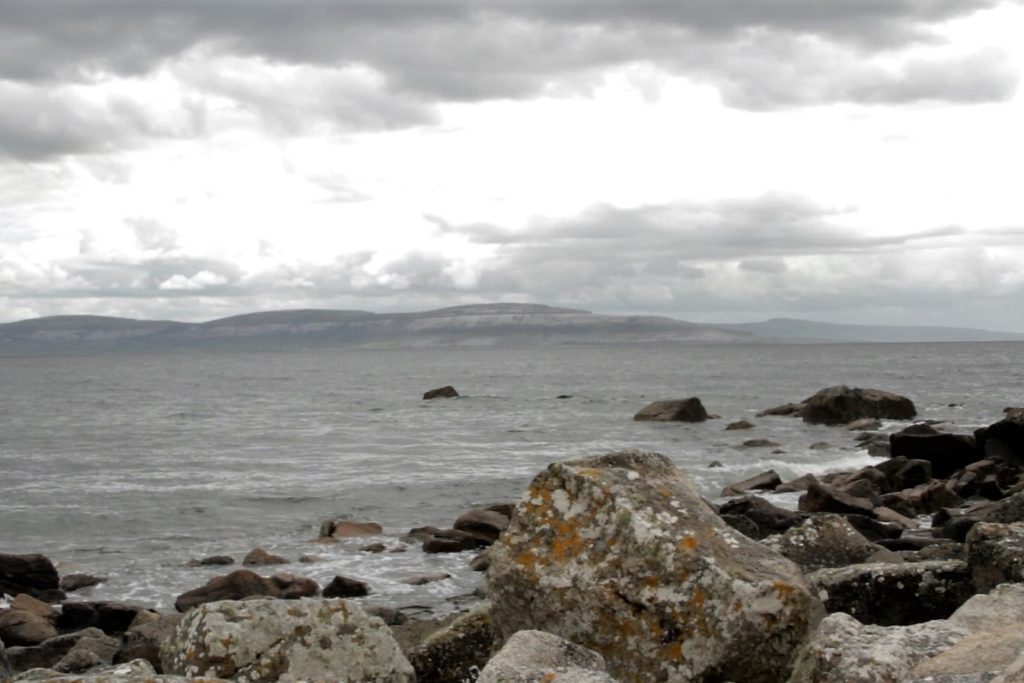 I remembered how Microsoft had recently announced testing submerged data centres just off the coast of California and how the sea, that seemed so far from Derrydonnell Forest, was potentially so close to the relationship of data. I thought about the fibre optic cable routes that entered Ireland from the Atlantic and from the UK. I thought about the coincidence? of the announcement that a new fibre optic cable would be laid form the US to Ireland entering somewhere within Galway Bay. I thought about the song I had heard so much about, The Fields of Athenry by Pete St. John, and how it talks of a story of a young man named Michael who is sent to Botany Bay in Australia for a minor crime, and how the earliest trans global telegraph cables were sent from the UK to Botany Bay along the same colonial trade routes. How connected this all was. How the oceans became almost insignificant by the technologies submerged beneath them.

Insulation: Derrydonnell Forest
On my return drive to Derrydonnell Forest, I started to think about what media theorist and author of The Undersea Network Nicole Starosielski refers to as 'insulation'. She gives examples of the ways in which media infrastructures constantly require insulation. Whether it be the insulation of gutta percha in the earliest telegraph cables or the insulation of geology in the case of the White Mountain, Pionen Data Centre built beneath the dense rock formations of Vita Berg Park in Stockholm. There is a clear desire for media infrastructure systems to be built with a public knowledge of their existence (fibre optic cables and high profile data centres are announced and launched with much fanfare historically and presently) but once their announcement is made, they disappear into the insulation of the rubber, or the ocean, or the mountain/rock formation, or the dense forest.
Returning to Derrydonnell Forest, I began to look at the simple wired fence that surrounds its perimeter. On day one I thought it was a fence to prevent me from getting in. Now I realised that it was really just to mark the farmland and keep cows out. The plans for the data centre complex
will replace the two wires that make up the fence with a tree height steel perimeter fence. It will mostly have power all the way around it to provide power for flood lighting, security sensors and cameras. With a view for returning in the future, I decided to record the wires moving in the wind, to try and capture the vibrations of the existing insulation of Derrydonnell forest. How much longer would this be sufficient to the needs of the content of this forest?

Meeting with Appeals
Later that evening, I met with two individuals who had filed concerns towards the build of the data centre. Allan Daly, a US national who has resided in Athenry for a number of years, whose expertise are in industrial design and sustainability assessments for companies based in California and Sinead Fitzpatrick, a solicitor and resident of Lisheenkyle who setup the appeal group named "Concerned residents of Lisheenkyle, Derrydonnell, Palmerstown & Barrett's Park". The two individuals come from radically different backgrounds but both share a strong interest in the project. I spoke at length with them about many of the issues they both are focussed upon and the experiences they have had throughout the appeal process.
For Alan, the issues that concerned him the most were that he believed the Environmental Impact Assessment was not thorough enough given the scale of the proposal. He felt that there were other potential sites within the Athenry area that could have been suitable candidates for the project and had plenty of criticism about some of the personal interactions with Apple representatives and public consultation sessions. He was an incredibly knowledge individual who knew a great deal about the proposal and about the data centre industry at large. He believed there was a slightly smaller site closer to Athenry town that would have been suitable for much of the proposal and would be in a designated industrial zone as opposed to a forest miles away from anywhere. He compared the Apple proposal to the recent developments of data centres by Microsoft, Google and Facebook in the Dublin area which were in designated industrial sites. What was it that made Apple think they were so different?
Sinead on the other hand had initially begun to appeal as a concerned resident living in the zone 2 area of the proposed site. She had spent a huge amount of personal emotion, energy and money on her appeal and had forged an alliance with a number of concerned residents who were worried about what exactly a massive data centre would do to their area. She paid out of her own pocket for second opinions on several elements of the environmental impact assessment that was carried out for Apple to see if their arguments held ground with an alternative bias. She was even talking about needing to re-mortgage her house if the need to make further appeals were required. Her commitment was impressive but Alan and I were very concerned for her wellbeing. The impact that this proposal had on her life had begun to be quite toxic, struggling to find ways to look after five children and a home with her supportive husband, plus stick a full time job was very apparent and she was clearly concerned herself. With the council's public appeals hearing taking place the following week, she was concerned about how to keep a presence publicly there, to avoid appearing that she had run out of steam or didn't care, whilst also keeping up a demanding full time job. She had an estate agent come to value her house, which she had bought in 2001 with her husband. She was told that the value of her home following the build of the data centre would essentially be around the same as it was when she bought it (a net depreciation in value essentially over 15 years). The concerns of the site of the forest being built were far more direct for Sinead.
Neither of them wanted to take a full week of annual leave from their jobs to attend the hearings, whilst obviously Apple would be investing in a score of experts to attend and argue their point to the council.
I had initially planned to try and interview them both but I realised as the time was going on and relationships hand not yet been established, I thought it was best to discuss with them their concerns about the project and try to find as much about their points of view I could. I also asked them if they would be willing for me to formally interview them at some point later in the year which they agreed to. They were very interested in the possibility of an artist intervention into this activity and seemed to understand that perhaps the work wouldn't necessarily change things for them in Athenry. However, I intend to keep in touch with both of them as well as continue trying to get in touch other people who have appealed, not to mention finding people who are very proactive towards the project, to broaden my scope.