General Locations
Derrydonnel, Palmerstown, Toberroe, Athenry: County Galway, Republic of Ireland.

Athenry Town Centre
I Walked around the historic town centre area of Athenry. Parked the car in a car park near the train station on the edge of the centre, beside a contemporary designed anglican church.
I walked around the medieval castle ruins and the ajdacent original medieval town wall. I took some photos around the area as well as at the site of the ruins of a Dominican Monastery.
Having taken photos of the original Athenry Church (now a tourist visitors centre), I decided to take a tour of the centre to learn a little about the history of Athenry. The information presented was mostly a general narrative of medieval history but there were interesting maps of the original town structure as well as information about the relationship between the De Bermingham family (who "owned" the land having travelled from the Birmingham, UK area) and the Domincan Monastery which had a self-contained and very separate relationship with the 'indiginous' locals. Athenry was a place for market trading and at one point was on the coast but subequent receding waters have drawn the coastline out to where Galway Bay now sits some 25km West. The towns historical centre, including the difficult to navigate, narrow roads remain to this day. I asked the guide if Apple trees were a historically popular source of fruit farming at all but the guide wasn't sure.
Upon leaving, I asked the guide if she had any opinions about the proposed Apple Data Centre at Derrydonnel. She didn't know much about it but introduced me to a colleague who was gardening outside. I spoke with him at length. He was a historian by profession. He hadn't really thought about the environmental impact of the data centre but generally speaking thought that it was inevitable that it would go ahead as Apple are a big multnational corporation. "You can't stop them really can you?" He said. He felt that generally people saw it as a good thing because he and his friends (who live in the Athenry area) were all initially under the impression that when the first announcement was made to build the centre (in early 2015), there was a promise of significant employment opportunities made by Galway council in the initial related press releases (need to find some examples). However, it has begun to increasingly transpire that there less jobs than first believed and that the impact on the Athenry community would actually be quite negligible. He seemed relatively concerned but not enough to feel it necessary to become active by it.
Shortly after I spoke then with a man who was working on his own in a small cafe/creperie called The Nook. He spoke with great concern about the incompetence, ego and corruption of councillors within Galway County Council. He expressed huge concerns that a large company wishing to invest in the area were being prevented planning permission, most likely in his view due to a lack of vision and a ridiculous desire to flex their egos on big decisions just for the sake of saying something. He spoke at length about his own issues with getting planning premission granted for a small extension to his home in Athenry and used this as a comparison to the difficulties that he saw Apple were having with their planning permission request. It was interesting how he tied his own experience to that of Apple's, given how the scale of these two proposals are quite substantially different.
Sounds in Athenry Town Centre
Vehicle traffic, pedestrians, casual vocal murmurs from business tradespeople, residents and tourists. Wind in the sporadic trees and birds. Distant sound of a train passing through and releasing its horn.
The Proposed Site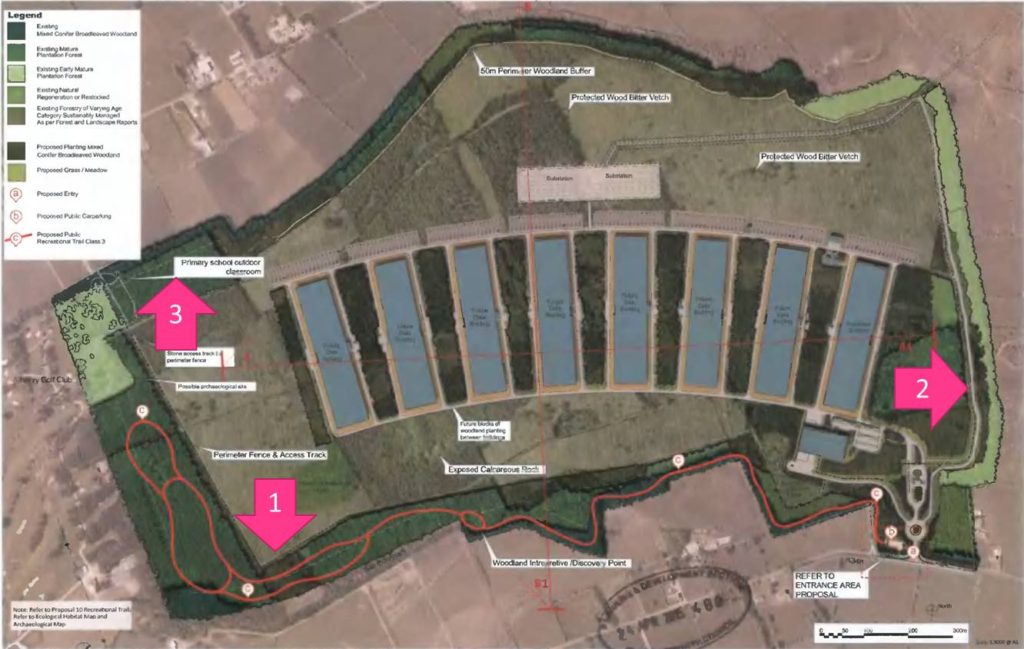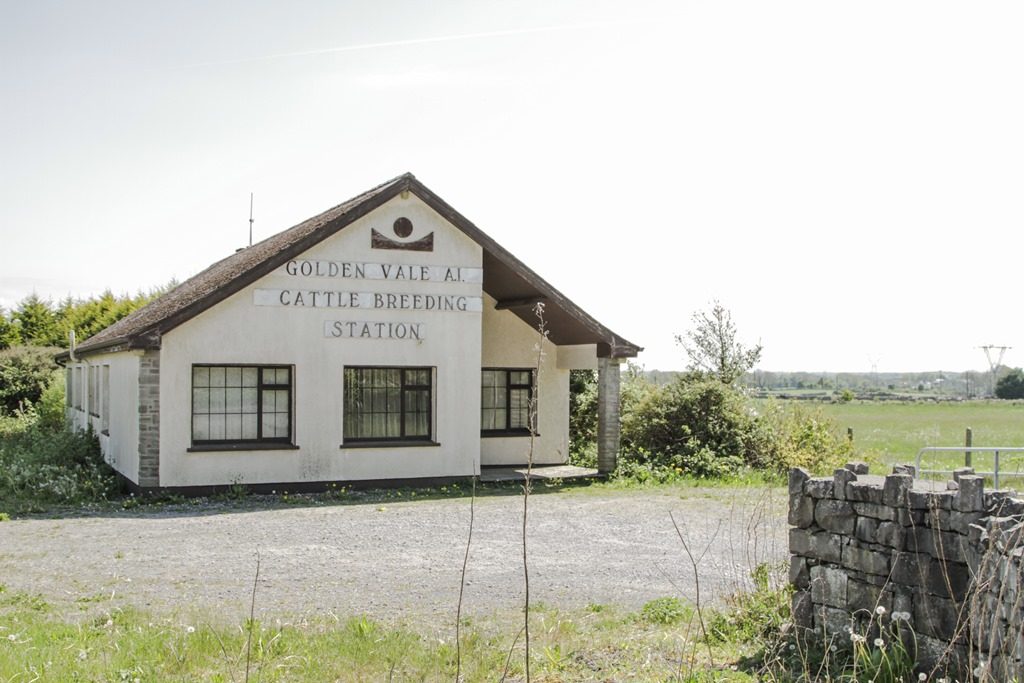 Derrydonnel 16:00
I drove out of the town centre to head to the site. The proposed site is approximately 6km West from the town centre of Athenry, 20km East from Galway City and around 200km North of Apple's European Headquarters in Cork (2.5 hours drive).
I wasn't entirely sure where I was heading but I came across a number of interesting locations on the way including an abandoned cattle market area, a sign celebrating the birthday of someone who was maybe a member of the Derrydonnel gun club. It was mostly farmland for cattle and a number of high standard, spacious, detatched houses.
Palmerstown: 17:00
I visited Scoil Naomh Mhuire (a primary school that is adjacent to the site) and where a number of houses are located. There is a small wind turbine inside the school area. I recorded here and listened to the subtle sounds of the small wind turbine as it rotated and pivoted. I listened out for the distant wash of the M6 motorway (roughly 1.2km North from the school which as at the North-West tip of the site). It was ever present but not violently disturbing. (I should look into average number of road users on the M8 around that area on any given day.)
Zone 1: 17:30
Confused about how to access the space, and concerned that I would need to trespass on farmland to access the forest, I moved around the Athenry Golf Course and parked my car there and prepared a fieldpack. I walked approximately 1km to the Zone 1 location that was in the South West corner of the forest site. I setup my recording equipment on the side of the R348 road about 100m from the forest edge and began to record a stereo recording with DPA4060s, a mono with MKH416, pointing towards the forest and then a handheld DR-40 recorder pointing away from the forest. Lastly, I recorded the Geophone inserted into the rocky earth beneath me. I heard traffic coming from a distance, the distant sound of a farmer loading hay into a trailer and cows. Many cows, chewing grass, flapping tails and the occassional moo. The area is predominantly affluent housing and cattle farmland. I took measurements with my phone of the ambient dB(A) level.
Zone 3: 18:15
After some time recording I decided to make a direct bearing towards the forest. I was nervous, not knowing if it was ok to be in the forest or not (I didn't actually know who exactly managed the forest if anyone). I dashed through the field, avoiding the irrigation channels produced for Cow feed, as well as the cows themselves and their waste matter. I climbed into forest edge. The ground was thick and spongey with moss. I made my way through to Zone 3 on the map which was deep inside the woodland having crossed a surprise discovery of a gravel road track that went through the centre of the forest. There was nobody in site anywhere. I reset my recording equipment in the same configuration but also put together an additional stereo pair of JfR Contact Microphones that I inserted into the base of a coniferous tree. I was continuously being eaten by small winged insects, and stepped out from the wooded section and stood on the track whilst the recording took place. I listened to the deep tones of the forest on a hot day, the creaking of the trees as they brushed and rubbed against each other in the tops.
Whilst in Sweden, I recorded with contact microphones inside the base of a tree above the Pionen Data Centre and had some very interesting results. I thought I would speculatively try the same here, within the trees that Apple had been claiming were dispensible as even though they were well over 100 years old and fully matured, they were 'non-native' trees to the area. I wondered if the tree had anything to say.
Between Zone 3 and Zone 2: 18:40
I began to walk with my blimp setup recording in my hand. The sun was large in the sky. I knew I would not be so lucky during the forthcoming days (rain was forecasted constantly) so I decided to continue to record as much acoustic material whilst I still could. It was also an opportunity to traverse the woodland. I walked along the fresh looking gravel track and began to think about the surroundings I stood within. I thought about the conversation I had with the man in the Crepe Cafe. I spoke my thoughts aloud. Was I making a big deal out of nothing? This space was unoccupied, maybe it wasn't that an impressive forest, maybe the Athenry area really does need an injection of something to lift it's economy. Perhaps I had been thinking about it all wrong.
I saw someone in the distance and panicked. What if I wasn't meant to be there? What if I get in trouble? I snuck back into the tree line, along the edge of where a large piece of forestry felling activity had taken place (central area of the forest). Clearly there was a lot of aboriculture activity taking place. I then found that I was adjacent to a farmers large shed where he was working and I was standing on a tracked and trod footpath. It dawned on me that this was public land, that my panicking was completely unwarranted. I saw a man taking his dog for a walk and began to feel quite stupid for approaching the forest as if I didn't have any right to be there, sneaking around as if I was a character from Metal Gear Solid on a covert operation. I decided to whistle.

Zone 2: 19:15
I kept my recording setup ready. The forest cleared again around the edge of a path where a different section had been felled. The size of the forest was immense. I thought about how the plans on paper really didn't give me much of an impression of perspective of actually just how big the site was, and subsequently just how big the eight individual 24,505m² data centre units would be to fill it.
Beginning to feel tired, I realised I needed to head back to my car but had managed to walk many kilometres away from where I was parked, with a full and heavying pack. I walked south through the path which will become the entrance to the site (if it goes ahead), leading back to the R348. At the entrance, I saw a car parked from where the dog walker had been – I should have parked my car there but had been nervous with where to place myself earlier.
Tucked beneath the bushes beside the road, I saw a white sign that had been flipped over. I turned it round and discovered it was the original notification for planning to build document. Placed for public viewing, and then left there for almost a year without any progression. Perhaps deliberately flipped over and hidden by someone who didn't want people to read it, didn't want people to know their dog walking woodland and adjacent countryroad might be about to face a significant change. I began my 2.5km walk to the car… tired and ready to rest. A car drove past me and stopped. I approached the car and a smiley face welcomed me, "hey there, how you keeping? Can I take you somewhere?"… I hitchiked, it was a beautiful day in Ireland and I was overcome with gratitude.


Summary of Sounds heard in the Zones
Zone 1: The distant din of traffic from the M8. The occassional closer sound of cars or small trucks on the R348 driving at speed. Cows chewing, mooing, stamping, flapping. Insect flybys. Rustling of bushes and distant trees gently brushed by the wind.
Zone 2: The distant din of traffic from the M8. Trees rustling in the wind. Various birds tweeting. Insects flying by.
Zone 3: The distant din of traffic from the M8. Birds tweeting. The rotating motor of a small wind turbine. The gentle pulse of wind being pushed around by the wind turbine blades. Rustling of the trees in the forest.

READ NEXT: 24 May 2016: Athenry, ROI