Día uno: 24/08/16
No more Internet. No more social media, no more scrolling through litanies of dreams and nervous hopes of photographs of lunches, cries for help and expressions of contentment and relationship-status updates with heart icons whole or broken, plans to meet up later, pleas, complaints, desires, pictures of babies dressed as bears or peppers for Halloween. No more reading and commenting on the lives of others, and in so doing, feeling slightly less alone in the room. No more avatars. (Mandel, 2015: 32)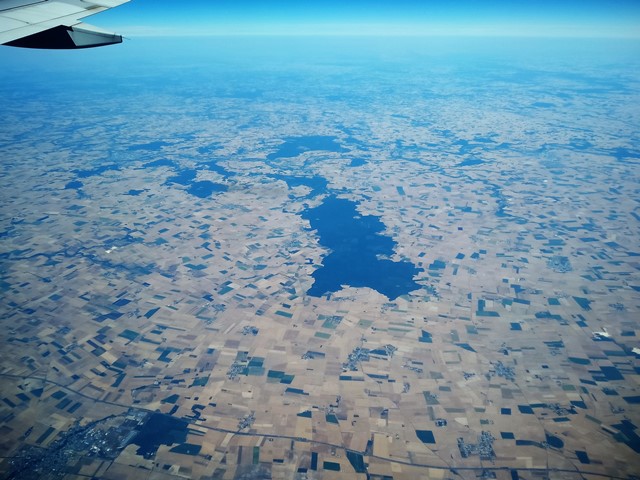 The day started at around 05:15 when three of our neighbourhood urban foxes began screeching in the wholly disturbing way that foxes do. The urban fox is often a solitary figure, roaming through the garbage late at night but this family seems to have become quite brazen and navigates the area in a group. Either they were startled, spooked or confronted by another species (such as a cat) or they were straight up arguing with each other in the garden square below our flat. I fell back asleep temporarily only to be woken by enthusiasm and nerves that somehow ensure that your body and mind are a few minutes ahead of your alarm clock at 06:15. My alarm had been set for 06:20.
I was up and on my way with suitcase, rucksack and recorder pack for the hill climb to Denmark Hill, followed by an Overground train to Clapham Junction, at which point I would change for a Southern Rail route to Gatwick Airport. It's half the price to travel from a train station that doesn't have the word 'London' in its title.
At Gatwick I negotiated the usual check in situation. Happily my main suitcase, which had been feeling pretty heavy turned out to be coming in at 20kg leaving 3kg spare on the 23kg limit. I really could have done with packing more clothes.
At the security gates, I walked through with plenty of technology in my bags and I knew I would be stopped for something. For the first time though, I was asked to explain what exactly my Tascam field recorder did to a member of staff. The staff member showed me the scan and pointed at a red circle drawn on the diagram around the microphone of the recorder. He explained how they trained to be watchful over anything that might look like a taser and due to the pincer of the X-Y stereo microphone configuration he was cautious… but friendly. My second bag, containing my field mixer came in for questioning too but amazingly the staff member tasked with inspecting it recognised it from the X-ray and sent me on my way.
I searched for airport Wi-Fi and found the free Gatwick Airport terminal and tapped connect on my phone, creating a profile using a made up pseudonym. How many more times would I find myself going online for the next fortnight? At what point would the Wi-Fi dry up? If I was going to be trying to assess the experience of being off-grid, would I want the internet even if it was available?
I flew to Madrid Airport. During the flight I gazed out of the window as we travelled down the cost of France, Portugal and then into mainland Spain. I counted the wind turbines, clustered into farm complexes within view, losing count somewhere around 415. How many wind turbines are required to provide the equivalent production of energy of a coal power station? Is it really storage that is holding this technology back?
In Madrid Airport, I got my laptop out, connected to the free Wi-Fi, over a coffee and sandwich. Looked at my future destinations en-route to Vélez Rubio and beyond to Los Gázquez. I refreshed the flight departure page again and again. Nothing changed, I doubted anything would… But I did it anyway.
Arriving at Granada I thought perhaps this would be last change to look at the Internet. Stepping onto the bus that would transfer me to the cities main bus terminal, I saw a notification about connecting to the ALSA WiFi. I would stay connected for another 30 minutes more.
Arriving at the station, I saw the cities tram lines, with no trams but perfectly lush, green grass along the lines. Artificial grass. Nothing could possibly remain that green in the dry, drought ridden climate of Granada surely.
I boarded another bus where my seat reservation number was #1. It seemed pretty clear that I was very keen to book my advance ticket… The first person…
The bus to Vélez Rubio was long and warm. At points I saw clusters of wind turbines lined across the peaks of the undulating terrain.
I arrived in Vélez Rubio at 20:40. It had been a thirteen hour journey to this point and ten minutes later, Donna pulled up in front of me in a Land Rover as promised and we made our way to Los Gázquez (Joya).
The trip to Los Gázquez was incredibly scenic. The setting sun lit the dry hills shades of gold and red. We passed the castillo de Vélez Blanco and discussed how Donna's brother had attended Tonbridge School, a quite large private school in the town where I grew up. Her family were from near the Maidstone area. Donna, her husband Simon and their two children Sesame (Sessy) and Solomon (Solly), now aged fourteen moved to Vélez Rubio ten years ago from Peckham in south London (close to where I live today). It was something they had always wanted to do (live in another country). I wonder if it had always also been a dream to run an artist friendly space, in the hills of a national park, with a modern aesthetic and an environmental, ecological approach to semi-off grid life?
I knew they supplied their own electricity and heating but how far towards off-grid would they really be?
Sitting with the family for dinner, I was also welcomed by Virginia (a young Spanish volunteer staying with the family to learn a bit of English before starting a degree), Abbie (a recent fine art graduate from the University of Manchester who was staying with the family for the whole summer whilst she thought about what she might do post-study), Nigel Logan (a Canadian video/moving image artist and painter who had set up camp in the second studio space for three weeks to produce paintings and Melissa Marks (a New York based artist who was on her sixth trip to Joya and had just completed work on two large installations in the nearest town of Vélez Blanco).
The children were both attending school in the local town; surely assimilated within the local culture, having lived and learned Spanish here for 10 years, yet clearly held clear connections to their English heritage. Both very well spoken and articulate with accents that hint at a UK private school education. Their lives must be both phenomenally interesting and complex. They slide between the worlds of artists, Spanish, English, parochialisms, ecology and sustainability. Solly is so confident at just 14 years of age, whilst his twin sister Sessy initially seems quieter around me.
We eat, we talk about films and box sets… Classic first date material.
Simon shows me the battery store that supplies energy from the photovoltaic panels and wind turbine outside as well as the two giant wood stoves that supply energy for underfloor heating during the colder months. They gather wood from the national park land which they live within.
Their water tank system is faulty and there is a puddle under the main tank but Simon isn't able to fix it just yet. He shows me a pipe with water heated by the solar system and I notice that its lukewarm at best.
In my room, he shows me the shower. Two blue buckets on the floor that I'm instructed I must fill up whilst the water gets warm (its about two buckets worth of pipe from the heat store at one of the house and my room at the other. Any water in the buckets can be used to water plants. Water is of a huge economy here. There has been a major drought for three years and Los Gázquez has no natural well so the family must purchase it from the town, and it is an expensive premium. Only use what you have to. Don't flush the toilet unless its absolutely necessary. Be conscientious of your waste water… Don't go thirsty though, it gets up to 40 degrees during the day; stay hydrated.
Following dinner I go out with Virginia and Abbieand we stare up at the twinkling starfilled sky. Suddenly my mind draws back to an article I was reading on the Guardian app during one of my flights. It was a 'long read' article about the loss of the night sky. The article explained how city dwellers simply cannot see the Milky Way, and how some of the most enthusiastic amateur astronomers get confused when they go to a real blackout location. Gazing up in awe, I realise that I haven't seen the stars so impressively bright and dense since I was in the mountains of the Sierra Nevada Desert in the US a decade ago. It's an incredible sight and I realise that being off grid deprives us of many things but it also gives us an opportunity to become engaged with the world in a way that technology easily takes away from us.
We head to bed and as I lie down in the pitch black of my bedroom, I see three brilliant white stars shining at me and for a moment I think I'm looking outside until I realise the lights are the LED's of my laptop charging beside my phone which is charging beside my camera which is charging… The stars above are charging notifications too.
Note
The Art for the Environment International Artist Residency Programme (AER) was launched in 2015 by Professor Lucy Orta, UAL Chair of Art and the Environment. Between August and September 2016, I spent two weeks at the arts-led field research centre Joya: arte + ecología. This is my journal.
References
Mandel, Emily St. John . (2015) Station Eleven. Picador Pan Macmillan, London, UK.