Día dos: 25/08/16
In Traverse City, the town they'd recently left, an inventor had rigged an electrical system in an attic. It was modest in scope, a stationary bicycle that when pedalled vigorously could power a laptop, but the inventor had grander aspirations: the point wasn't actually the electrical system, the point was that he was looking for the Internet. A few of the younger Symphony members had felt a little thrill when he'd said this, remembered the stories they'd been told about WiFi and the impossible-to-imagine Cloud, wondered what the Internet might still be out there somehow, invisible pinpricks of light suspended in the air around them. (Mandel, 2015: 38)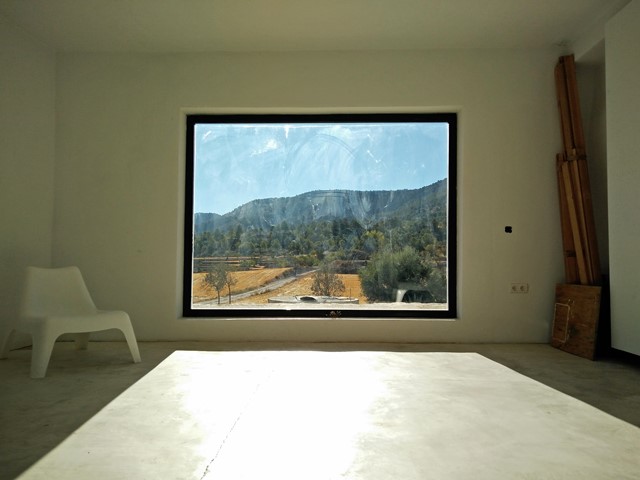 And so having woken up to a dream of my old school friend Andy hanging out with Cate Blanchett and an awkward cameo from Benedict Cumberbatch wearing a black curly hair 'scouser wig', I began my first full day at Los Gázquez.
I exercised and stretched for about half an hour in my room and then went to grab a shower. Two buckets full and it seemed that the water wasn't going to improve in temperature. Cold shower it was. In hindsight I realise early morning isn't the best time for showers as the photovoltaic hasn't had an opportunity to get working just yet. Duly noted for tomorrow.
I store the water, brush my teeth conservatively and use some of the waste water from the shower to flush the toilet.
I take my equipment with me to the studio space Simon has kindly allocated me. There is an amazing view from a giant window at one end of the studio. The sun fills the floor beneath and it is warm… Two goats walk past the window.
I spend much of the day getting my equipment out and testing it, making space on a table to work from when I get to editing in the future and generally feeling acquainted with my new surroundings.
There is internet here at Los Gazquez, and Solly is the king of the web. The router is in the family area of the house, which isn't really for me to access. From time to time I hear little reminders of Internet activity going on behind me. The boot sequence mnemonic of Netflix at one point. Whilst they do not have a cable, like 99% of the world's internet traffic, they have a complex satellite array that connects them to the Internet with seemingly very functional levels.
What is off-grid? How far should one take off-grid? Does a Butane gas canister for a cooker and a diesel backup generator and satellite Internet access still count as off-grid? Is off-grid only limited to electricity and water? These are both considered basic human rights within the Western World, but isn't this also the case for access to the internet? Perhaps off-grid isn't about burying one's head in the sand, it is a conscious effort to explore new ways of using the environment and available infrastructural support networks.
The best place to get a connection to the WiFi network is in a hall connecting between the kitchen and the studio. It also links the family residence. My artist colleagues come and go from this space to tap in to the web, the bandwidth junkies that we all are. I actively deprive myself of it for a day. I need to see how long I can go without it whilst at Los Gazquez, not so much as proof to myself that I can, or out of some kind of eco statement, but as a learning exercise, a reminder of pre-internet life (I do remember it a little… Or at least I more clearly remember it before the Internet got really quick and more than one person could use it at a time).
I spend some time with Sessy after I ask her to pop a balloon for me in order to record an Impulse Response of my studio. I think I'll pop balloons in a few more locations whilst I am here. I walk around the campus/property and I take pictures and rough videos with my phone to give me things to consider before I venture out into more ambitious recording territory over the next few days.
I pay close attention to the Lead battery and what looks to be a diesel generator tucked away underground by the photovoltaic panel.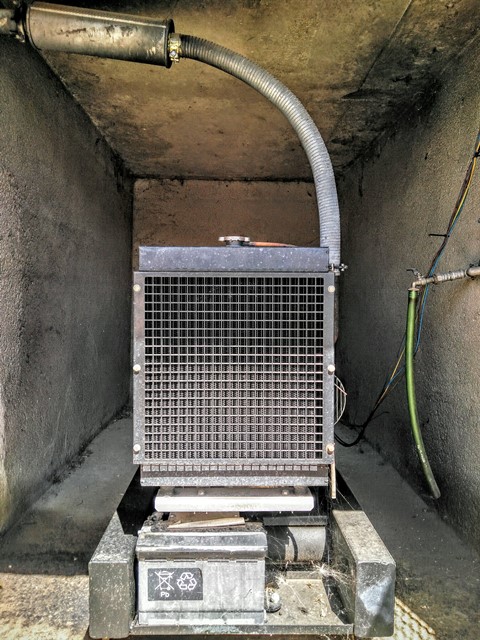 The spent oil bottles sat beside it tarnish to perfect white stone wall beneath the towering wind turbine.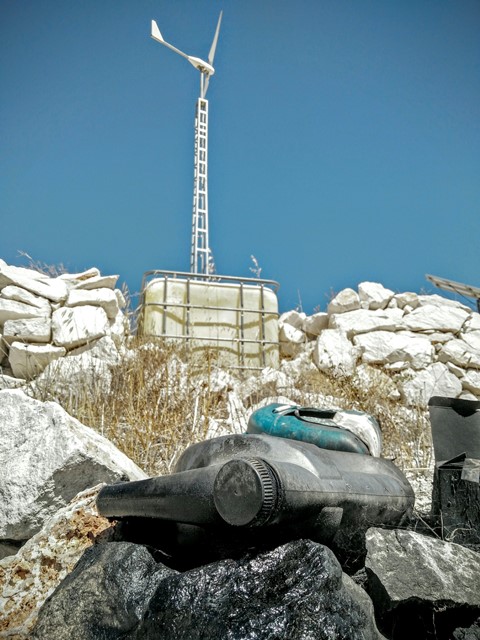 The exposed non biodegradable plastic bedding from where the stone/gravel track top has been swept away by wind and possible heavy rain in the past. The place is desperate for rain but when it comes, what price will the space have to pay? Will the rain be heavy? What kind of soil erosion and landslides occur?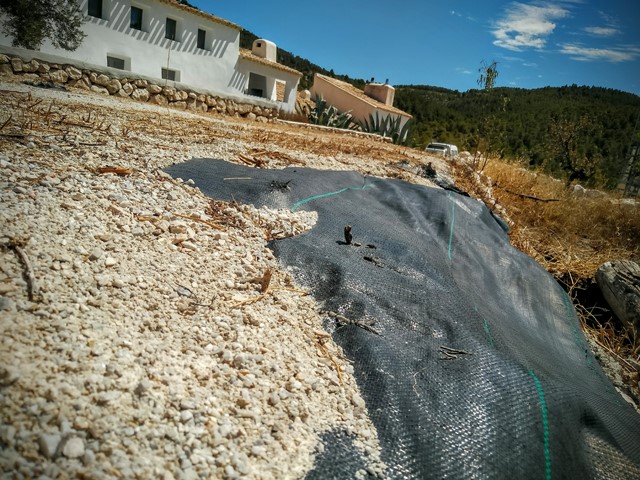 I am left fascinated by the life of these people and the space they live within. What compromises are worth it and what are too far. What is ideal, what is getting by? What is being connected and what being off grid?
I plan to continue to avoid using the WiFi here but tonight we are going to Melissa's opening of work she has produced in the historic castle of Velez Blanco and I might as well just use my mobile data for a little whilst I'm in the town. I have an exhibition in Brighton that is being installed and I am anxious to find out how its going.
I must make a detailed plan of action for the next few days, probably starting with an early morning hike and isolated field recording upon the hills of the park… Moving from the outside world to the inside I'll see where it takes me and in week two I shall try and assemble my work into something presentable and valid for discussion.
Note
The Art for the Environment International Artist Residency Programme (AER) was launched in 2015 by Professor Lucy Orta, UAL Chair of Art and the Environment. Between August and September 2016, I spent two weeks at the arts-led field research centre Joya: arte + ecología. This is my journal.
References
Mandel, Emily St. John . (2015) Station Eleven. Picador Pan Macmillan, London, UK.