Último día: 05/09/16

I spent a fortnight in the company of the Beckman family at El Cortijada de Los Gázquez, in an alpine desert, living at 1000m above sea level in the Parque Natural Sierra María – Los Vélez. In the spring of 2016, I applied to the Art for the Environment International Residency Programme (AER) run by Professor Lucy Orta at the University of the Arts London. The award was for a number of research-led artist residencies to take place across the world for existing and recently graduated UAL students. I was about half way into my first year of a PhD programme at London College of Communication, studying within Creative Research into Sound Art Practice (CRiSAP) research centre.
What struck me about the opportunity to visit Los Gázquez was the idea of spending two weeks off-grid. Two weeks without. Two weeks disconnected. What might two weeks offline do for me? To me? What did off-grid mean? What kind of systems would be in place to live an off-grid sustainable life with a family (two adults, two children in a non-native country).
I was also interested in studying the environment of Los Gázquez as an off grid site. Far from any built up metropolitan centre, far from where I tend to spend most of my life, in the anthropogenic urban wash of cars, generators, ambulance sirens and helicopters, impossible to distinguish one source of noise from the next. I wondered what a rural and open landscape might offer as an alternative field to my listening and recording practice.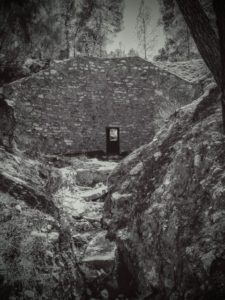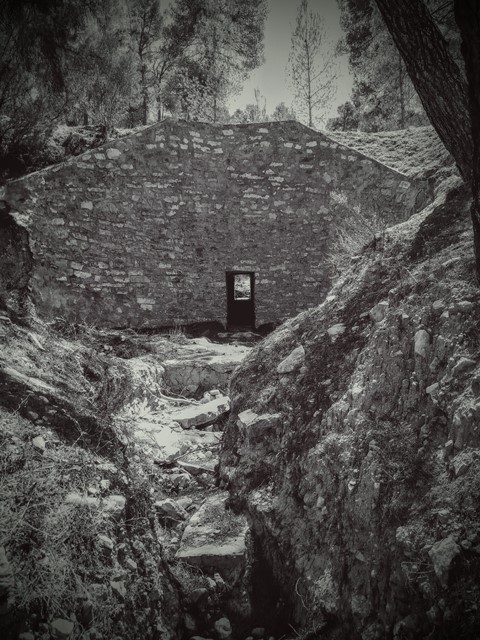 My application for the residency was based around some of my PhD research questions. My research is based around what I call 'sonospheric investigations' into media infrastructures. That is to say, that I try and listen to a whole gamut of frequencies, using air-borne and land-borne transducers, converting vibrations into digital signals that can then be converted into sound from loudspeakers. I centre this listening practice around the internal and external architecture of media infrastructures (data centres, fibre optic cable landing sites, satellite and telecommunication receivers etc). I am interested in how the Internet and its related infrastructures vibrate across the globe as a physical material network; the 'medianatures' of the Internet, to paraphrase Jussi Parikka.
In Los Gázquez, I wanted to experience being disconnected from the internet but I also wanted to study the infrastructure of an off grid site. Data Centres in particular are the hub for the global Internet network and as such are huge consumers of energy. Many of the world's biggest companies operate them (Apple, Google, Facebook, Amazon, Microsoft etc). They are a huge burden to the electrical grid of their surrounding area; it is estimated that they use an equivalent energy requirement to that of the aviation industry and as such, they are a significant site for ecological, socio-political and environmental concern, as well as a significant site of property rights, concepts of the self, the posthuman, the cyborg, the Anthropocene and of provenance and rights in the digital age.
My research led me to analyse the noise of such sites as representative of waste. The noise, generally being vibrations caused by industrial scale HVAC systems, fanning hot exhaust air into often cold climates (in the northern regions of Scandinavia for example).
Recently, I have been studying a site that Apple have been in protracted negotiations for over a year to build a data centre in. It is in the Derrydonnell forest in County Galway, Ireland, close to the small but well known medieval town of Athenry. Apple claim they will use exclusively 100% wind energy from the grid. I was confused but fascinated at such a claim given how estimates are that the data centre once fully operational is expected to require around 8% of the entire Irish grid's energy allocation (more than the capital city Dublin).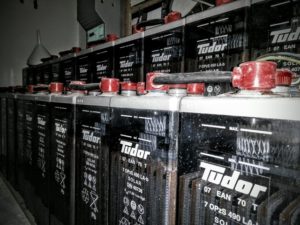 And so I began to wonder what exactly does sustainability mean? What does sustainable energy mean? How sustainable is the technology used that is claimed to be 'zero carbon'? Surely it is made full of components built as a result of intensive land destruction and mining; the production of rare earth minerals and metals for example to produce microchips, lithium-ion and lead batteries.
I am not interested in becoming a Luddite and thankfully neither are the Beckman's in Los Gázquez. They are interested in doing the best they can to maintain a good quality of life in as off-grid and sustainable way as they possibly can, investigating the possibilities of land reclamation, and returning to sustainable measures of living without burying their heads in the sand and without harking back to some kind of golden age that never existed. They are progressive and thoughtful about how they can make a positive and ecologically sensitive impact on Los Gázquez.
I spent most of my days field recording and creating a library of sounds, produced according to my own initial intrigue and then later, according to the sounds that the residents here associate with living in Los Gázquez. The library comprises goats, crickets, sheep, vultures, wind turbines, water pumps, photovoltaic panels, clay fizzing with water, children playing games, people eating dinner, flip flops across the concrete floor, diesel generators, a Land Rover, the silence on top of a mountain, electromagnetic noise from battery stores, electromagnetic interference from a phone attempting to connect to a distant and patchy 4G signal, helicopters, jumbo jets and much more. The collection of recordings put the environment at the centre of my thinking but I am thinking of the environment as the things that surround us as we exist. This is not a study of nature versus culture. For me the urban dweller, Los Gázquez and the surrounding area feels remote but the family home has electricity, Wi-Fi from a satellite uplink that connects to a suborbital network and bounces back to an exchange in Italy, and the landscape surrounding la Cortijada de Los Gázquez has signs of anthropogenic activity everywhere, from the terraced abandoned farm land to the water catchment systems, to the artificial walls and tributaries built within the Barrancos (water drainage, fluvial systems drawing down from the mountainside).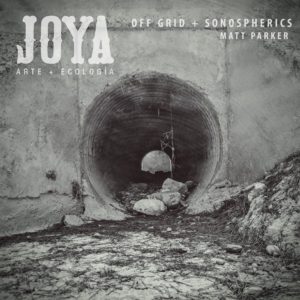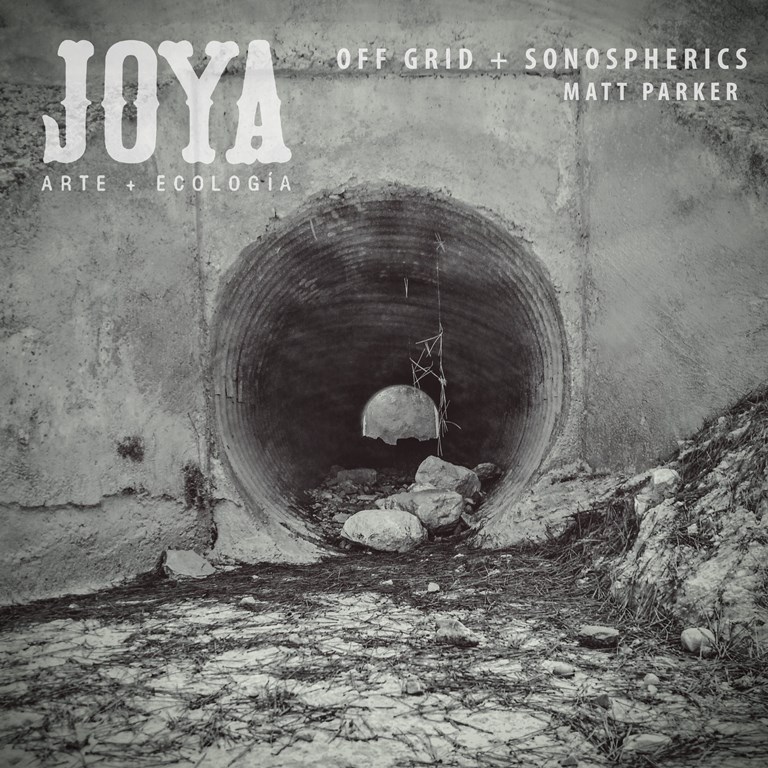 I have been on many walks into the relative 'wilderness' of the Parque Natural Sierra María on my own, taking a bearing and just going for it. Listening carefully to changes in sound, the flies, the trees, the wind, the nothingness, the everything-ness. I have recorded infrasonic vibrations with geophones, contact transducer microphones on vibrating bodies of metal, stereo microphone recordings of my position in the landscape and electromagnetic frequencies with coil-tap transducers. I'm not sure what to do with this collection other than listen to it and think about how it might relate to my other work on the urban and black site data centre spaces of my existing research. How does a site like this challenge my conceptions of isolation, off grid? How many miles do I need to travel in Ireland to locate somewhere away from any kind of anthropogenic noise like I can here… Let alone London?
Being disconnected from the internet… How I tried… How temptation pulled me back in… How on my fourth day, whilst marching up a mountain first thing in the morning, on my own, where I managed to see a fox, two vultures and an Ibex in their natural habitats, I became more intrigued by suddenly picking up a full strength 4G signal. How whilst thinking about life in a post-apocalyptic world, where petrol had gone stale, the grid was disconnected and the internet was just a myth, my field recorder started bleeping to the interference of a roaming mobile data signal and a sudden emergence of a low flying helicopter passed over me. How, even at my most isolated, I was never far away from signs of human activity, whether it be signs from the past 30-40 years or in the past 300-400 years. The marks were everywhere.
It has been an absolutely incredible experience. I look forward to working through my recordings and thoughts, and these blog entries have helped me shape my thoughts and progress but I will continue to develop my work over the next few months. On the final day and final night, I played a mix of sounds to the family and guests that had been part of the forming of my sonospheric collections from the residency. I've decided to make it available free on Bandcamp as a very simple marker of the experience. It is largely an unaltered set of recordings mixed together with a few minor alterations at times. It is a marker, a log, a work in progress, a diary of thoughts, and a documentation of research activity in this dry, barren and utterly beautiful landscape.
I would like to extend my thanks to my hosts, Donna, Simon, Sessy and Solly for being so welcoming. Their life here, as English expats, who have stepped up to a fascinating and difficult challenge of living in a radical and rural setting just north of the small town of Vélez-Blanco is truly inspirational. My thanks also go to the fellow artists and guests who have been here during my stay, Anna, Dayna, Elena, Melissa, Nana, Nigel, Peter, Virginia and a special thanks to Abbie who without her… I wouldn't have got completely lost for eight hours one day when failing to find an ancient cave painting that was allegedly in plain sight.
Note
The Art for the Environment International Artist Residency Programme (AER) was launched in 2015 by Professor Lucy Orta, UAL Chair of Art and the Environment. Between August and September 2016, I spent two weeks at the arts-led field research centre Joya: arte + ecología. This is my journal.
Reference
Parikka, Jussi. (2015). A Geology of Media. Minnesota University Press, Minnesota, US.